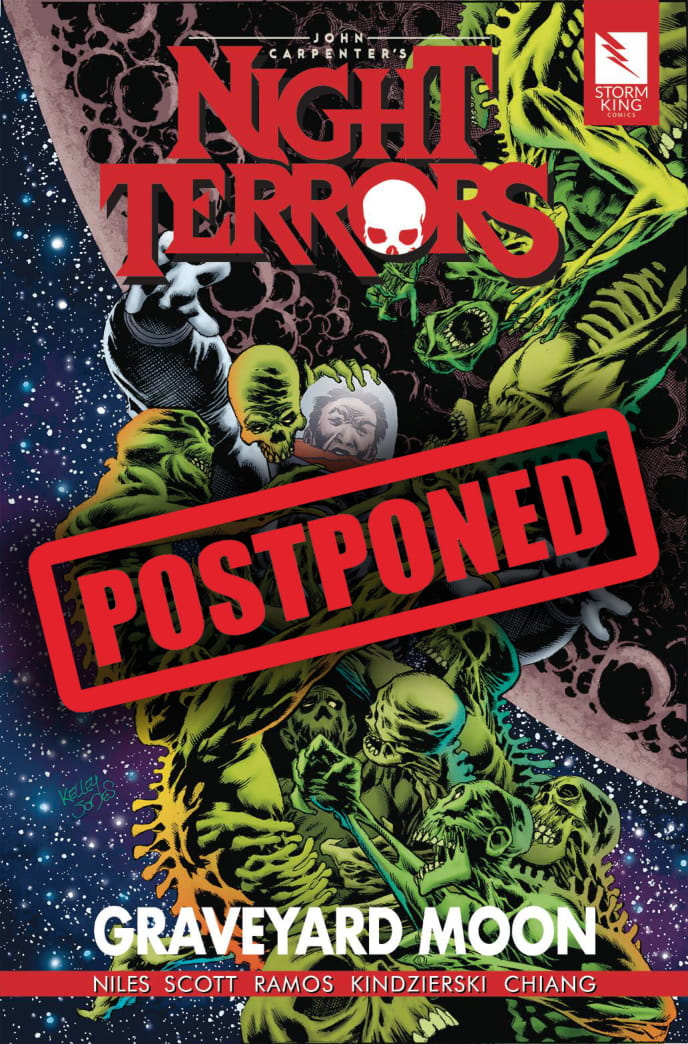 Our good friend Stephen B. Scott returns to Henk Comics on Saturday the 26th of  September for a special store appearance celebrating the release of his brand new Graphic Novel from Storm King Productions:
JOHN CARPENTERS NIGHT TERRORS GRAVEYARD MOON GN
Storm King Comics is the publishing line from legendary writer, producer, editor power house Sandy King Carpenter. As a co-conspirator in all things John Carpenter she has created an award winning comic line for fans of all things horror and sci-fi.
And thus is the in-house award winning publishing arm of legendary film maker John Carpenter.
JOHN CARPENTERS NIGHT TERRORS GRAVEYARD MOON GN
Written by Steve Niles Art by Stephen Scott and Rodney Ramos Colored by Lovern Kindzierski Cover Art by Kelley Jones
The crew of a cargo ship that transports the dead for burial on a designated Graveyard Moon find themselves overwhelmed by unspeakable horror… surrounded by the ghosts of the dead they carry.
In the not so distant future, Earth no longer has space for graveyards. Callisto, a rocky moon of Jupiter, has become designated as the graveyard planet, but only the wealthy can afford a proper burial there. Cooper and his longtime crew prepare to transport a load of the dead, having flown this route many times over. But their routine trip to the graveyard moon is disrupted by deception and greed… and they find themselves under siege by the ghosts of the dead they carry.
We'll have a limited amount of JOHN CARPENTERS NIGHT TERRORS GRAVEYARD MOON GN available on the 26th so make sure you don't miss this! The fantastic art by Stephen B. Scott is inked by our other good friend, the legendary Rodney Ramos and colored by the fantastic Lovern Kindzierski!
Of course we will also have a very special new limited edition print exclusive for Henk Comics by Stephen B Scott!
Access to the signing is limited due to the current situation, so please let us know if you plan to drop by for the signing – we will then make sure to give you a designated time slot – so this first event in 2020 will be a safe event! More info to follow!
Please inquire for Commission requests. Commissions are open for this event as pre orders only to be delivered on site. You can contact Rudi Bepunkt here on fb for the details. All orders must be in on 19 September.