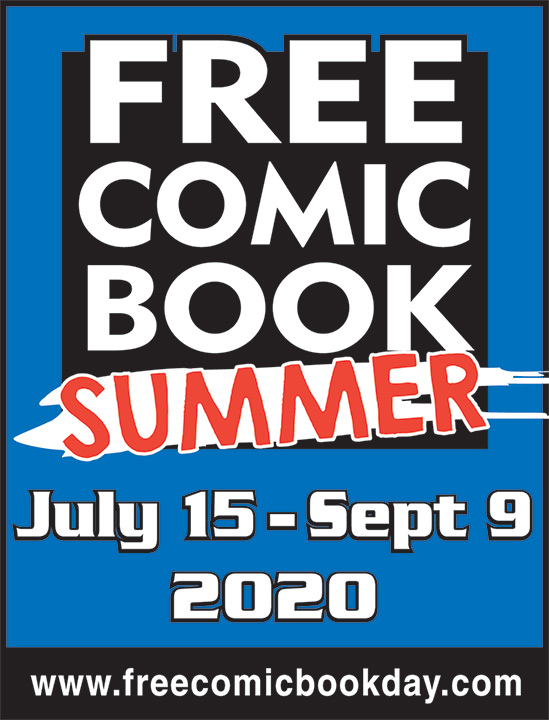 Free Comic Book Day, the comic book industry's largest annual promotional event, is traditionally scheduled to take place the first Saturday in May each year. However, the impact and spread of COVID-19 prevented the event from being celebrated at its normal time this year. Now, the beloved event has been rescheduled and reworked to take place throughout July and early September in order to accommodate social-distancing and store capacity regulations across the country, effectively making it Free Comic Book Summer!
Scheduled to take place between July 15 and September 9, Free Comic Book Summer will feature 45 of the previously announced titles from publishers like Marvel Comics, Image Comics, BOOM! Studios, Dark Horse Comics, IDW Publishing, Dynamite Entertainment, DC, and more! The 45 titles are designed to appeal to a broad range of tastes and run the gamut from superhero stories, to TV and movie tie-ins, to sci-fi adventures, all-ages tales, and beyond. There will also be two educational support titles from the Comic Book Legal Defense Fund and Gemstone Publishing.
A complete listing of all 45 FCBD titles, including the 10 Gold Sponsor and 35 Silver Sponsor comic books, can be viewed online at www.freecomicbookday.com. A release schedule of when titles will be hitting comic shops is available below!
Fans, bring your friends and family and head to Henk Comics & Manga Store every week starting July 15 through September 9 to check out the new, and fantastic, free comics available that week! More news about special discounts and other activities including the Special FCBD Summer edition of Henk's Famous Instant Lottery!